Laboratory of beneficial insects​
THE MAIN FUNCTIONS OF THE LABORATORY​
Search for useful insects in natural habitats and agrobiocenoses of cultivated plants in the regions of Kazakhstan.

Study of biological features of bioagents development of (quality of parasites and predators, sex ratio, fertility, life expectancy);

Development of technology for mass reproduction of bioagents in laboratory conditions (selection of forage plants and study of the conditions of their settlement by phytophages and entomophages, determination of the sex ratio of parasites: host) and the establishment of a bioconvert for the uninterrupted breeding of phytophages and entomophages.

Pre-production verification of the effectiveness of bioagents against pests of vegetable crops in conditions of protected soil (establishment of norms, terms and methods of colonization of bioagents, determination of the degree of colonization of plants by phytophages);

Study of the possibility of using bioagents in an integrated system of protection of vegetable crops from pests in protected ground conditions, if necessary, the use of insecticides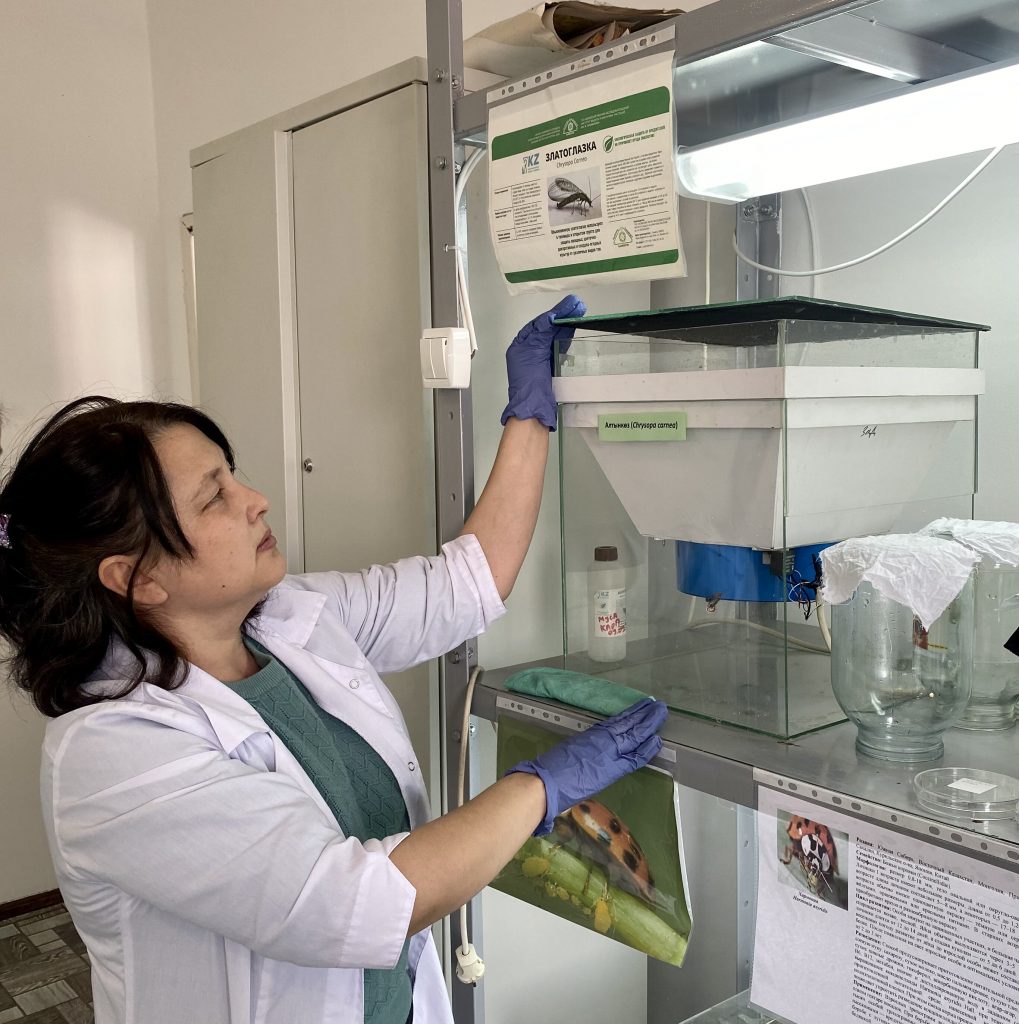 There are 8 types of bioagents in the laboratory:
Macrolophus pygmaeus R.
Phytoseiulus persimilis A.
Chrysopa carnea S.
Aphidius colemani V.
Amblyseius swirskii A. 
Podisus maculiventris S.
Habrobracon hebetor S.
Orius laevigatus F.
        It plans to further maintain and expand the collection to 15 species (micromus (Micromus angulatus S.), stethorus (Stethorus punctillum W.), encarsia (Encarsia formosa G.), Eretmocerus (Eretmocerus eremicus  R.), amblyseius montdorensis S. and 1 species of bumblebee ( Bombus).
Sitotroga cerealella O. line for obtaining moth eggs as food for predators. Technologies of mass reproduction, methods, norms and terms of colonization have been developed for some of them, and they are already being used in greenhouses.
Current projects
Completed projects
Current projects
Targeted funding program 2021-2023:
TFP of the Ministry of Agriculture of the Republic of Kazakhstan BR10764960 "Development and improvement of integrated protection systems for fruit, vegetable, grain, fodder, legumes and quarantine plants".
Completed projects
Mass breeding of ecarsia (Encarsia Formosa) against greenhouse whitefly (Trialeurodes vaporariorumWestw.) on vegetable crops of protected soil. Certificate of State registration of Copyright Rights No. 0285 dated January 24, 2018

Duisembekov B. A., K. M. Toleubaev, Chudinov A. M., Shalamov H. I.

The integrated system of protection of forest crops from pests and disease of the green belt of Astana, No. 0506, dated 23 February 2018, Sagitov A. O., Muhamadiev N. C., The Ashikbayev N. J., Medeva G. J.,Bolat Janarbek,Kenes Ngelt,Manasbaev N., Suyundikov J. O., Rakhimzhanov A. N.

Integrated system of protection of nurseries from pests and diseases, No. 0505 dated February 23, 2018 Sagitov A. O., Mukhamadiev N. S., Ashikbayev N. Zh., Mendibayeva G. Zh.,Murtazina A. S., Bolat Zhanarbek, Kenes Nurgeldi

Innovative scientific and technical support of phytosanitary safety in the Republic of Kazakhstan, No.0488 dated February 21, 2018. Sagitov A. O., Duisembekov B.A., Zhanarbekova A.B., Uspanov A.M., Kopzhasarov B.K., Niyazbekov Zh.B., Mukhamadiev N. S., Ageenko A.V., Slyamova N.D., Kaldybekkyzy G., Yesimov U.O., Sarsenbayeva G.B., Temreshev I.I., Sagitov R.K.

UTILITY MODEL NO. 5363, 11.09.2020. Sagitov A.O., Alimbekova A.K., Duisembekov B.A., Chadinova A.M., Naimanova B.Zh., Dzhubatova E.A. Method of mass breeding of macrolophus when protecting tomatoes in closed ground from pests // Patent of Kazakhstan No. 5363, 2020. Byul. No. 36.

UTILITY MODEL "Method of application of protective and stimulating composition for elite hybrid seedlings of poplar and turanga". from 30.10.2019
M. Chadinova, A.O. Sagitov, K.A. Alpysbayeva, B.Zh. NaimanovaStudying the biological features of development and the technology of breeding the Oriuslaevigatusfieb predatory bug // Ecology, Environment and Conservation Paper, – Vol. 26, Issue 3, – 2020, – P. 1309-1312. IF<0.14
S. Mukhamadiyev., G. Zh. Mengdibayeva, G. K. Nizamdinova., A. S. Shakerov. Harmfulness invasive pest-oak mining sawfly (Profenusa pygmaea, KLUG, 1814) //Reports of the national academy of sciences of the republic of Kazakhstan ISSN 2224-5227 Volume 6, Number 340 (2021), 44-49 https://doi.org/10.32014/2021.2518-1483.10
O. Sagitov, N.S. Mukhamadiyev, N.Zh. Sultanova, A.S. Dinassilov, M.À. Uzakbayeva and G.Zh. Mengdibayeva№ Integrated system of protection of soybeans from insect pests in the fields of "OntustikAgropark" Llp //
Eco. Env. & Cons. 26 (3) : 2020; pp. (1204-1207) Copyright@ EM International ISSN 0971–765Xhttp://www.envirobiotechjournals.com/EEC/vol26i32020/EEC-40.pdf
Mukhamadiyev N.S., Ashikbaev N. Zh., Mengdibayeva G.Zh. Monitoring of stem pest populations (Scolytinae) which strikes the endemic spruce Shrenk in Zailiysk Alatau // Izvestiânational'nojakademiinaukrespublikiKazahstan, July – August 2019. 4 (52) – Р. 63-68
Ann M. Lynch, Nurjan S. Mukhamadiev, Christopher D. O'Connor, Irina P. Panyushkina, Nursagim A. Ashikbaev, Abay O. Sagitov. Tree-ring Reconstruction of Bark Beetle Disturbances in the Piceaschrenkiana Fisch. et Mey. Forests of Southeast Kazakhstan // Forests2019, 10(10) 912; https://doi.org/10.3390/f10100912
Nurzhan Mukhamadiyev, J. Bolat, A. Koigeldina, GulnazMengdibayeva. The number of main species of bark beetles (Scolytinae) and protective measures in the mountain forests of the Zaili Alatau // Ecology, environment and conservation vol. 26 (3): 2020 – Р.1166 –1169 Q4; Импакт-фактор:  14 Процентиль – 15 http://www.envirobiotechjournals.com/EEC/vol26i32020/EEC-33.pdf
Nurzhan Mukhamadiyev, J. Bolat, A. Koigeldina, GulnazMengdibayeva. The population of Bark Beetles (Scolytinae) and their entomophages on endemic spruce in the Zaili Alatau // Ecology, environment and conservation vol. 26 (3) : 2020 – Р.1189–1192 Q4; Импакт-фактор: 14; Процентиль – 15 http://www.envirobiotechjournals.com/EEC/vol26i32020/EEC-37.pdf
S. Mukhamadiyev, G. Zh. Mengdibayeva, N. Baktiyarova, B. A. Zhakupakynov. Dominant species of xylophage insects (Scolytinae) and natural enemies on spruce // N e w s of the national academy of sciences of the republic of Kazakhstan series of agricultural sciences ISSN 2224-526Х  Volume 3, Number 57 (2020), 41 – 50https://doi.org/10.32014/2020.2224-526X.15
Темрешев И.И., Есенбекова П.А., Сагитов А.О., Мухамадиев Н.С. Рекомендации по разведению жалящих перепончатокрылых (опылителей и энтомофагов) на полях кормовых культур. – Алматы, 2017. – 29 с.
Сагитов А.О., Мухамадиев Н.С., Ашикбаев Н.Ж., Меңдібаева Г.Ж., Болат Ж., Кенес Н., Суюндиков Ж.О., Рахимжанов А.Н., Куанышбаев Н.К. Рекомендация по интегрированной системе защиты лесных культур от вредителей и болезней зеленого пояса Астаны. Алматы, 2017. – 29 с.
Сагитов А.О., Мухамадиев Н.С., Ашикбаев Н.Ж., Меңдібаева Г.Ж., Болат Ж., Кенес Н., Сысоев А.Г., Сагадиев Д.К., Муртазин С.А., БаймуханбетовС. С. Рекомендация по интегрированной системе защиты лесопитомниковот вредителей и болезней. Алматы, – 19 с.
Темрешев И.И., Есенбекова П.А., Сагитов А.О., Мухамадиев Н.С. Рекомендации по разведению жалящих перепончатокрылых (опылителей и энтомофагов) на полях кормовых культур. – Алматы, 2017. – 29 с.
Сагитов А.О., Мухамадиев Н.С., Ашикбаев Н.Ж., Меңдібаева Г.Ж., Болат Ж., Кенес Н., Суюндиков Ж.О., Рахимжанов А.Н., Куанышбаев Н.К. Рекомендация по интегрированной системе защиты лесных культур от вредителей и болезней зеленого пояса Астаны. Алматы, 2017. – 29 с.
Сагитов А.О., Мухамадиев Н.С., Ашикбаев Н.Ж., Меңдібаева Г.Ж., Болат Ж., Кенес Н., Сысоев А.Г., Сагадиев Д.К., Муртазин С.А., БаймуханбетовС. С. Рекомендация по интегрированной системе защиты лесопитомниковот вредителей и болезней. Алматы, – 19 с
ISBN 978-601-7181-10-9 Сагитов А.О., Дуйсембеков Б.А., Чадинова А.М., Шанимов Х.И., Алимбекова А.К., Динасилов А.С. Рекомендации по мерам борьбы с южноамериканской томатной молью (TutaabsolutaPovolny) на томатах защищенного грунта и массовому разведению и применению энтомофагов макролофуса (MacrolophusnubilisH.S.) и несидиокориса (NesidiocoristenuisReuter) // Рекомендация. –Алматы, 2020. – 34с
ISBN 978-601-7181-093 Мухамадиев Н.С., Гниненко Ю.И., Ашыкбаев Н.Ж.,Мендибаева Г.Ж., Кенес Н. Атлас доминантных видов насекомых-ксилофагов ели Шренка // Атлас. – Алматы, 2020. – 71 с